Saving Oil, Fuel and the Environment While Putting Money Back into Education
Refines oil while engine is running
Eliminates liquid contaminants
Increases fuel efficiency
Mitigates fuel dilution of motor oil
Extends DEF yield
Reduces DPF regen cycles
Maintains 100% oil lubricity
Reduces downtime and costs
Increases oil change intervals
Saves your money
Reduces waste oil production
Prolongs engine service beyond 60%
Huge return on investment
Reduces hydro-carbon impact
Implementation is simple!
Commercial diesel engines generally need oil changes 6 to 12 times a year, costing $300 to $400 each time. Once installed, ONBOARD® can save thousands per year.
ONBOARD
®
Performance Products are compatible with virtually all internal combustion engines.
Caterpillar
Cummins
Detroit Diesel
General Motors
International
Isuzu
John Deere
Kohler
Komatsu
Mack
MAN
Mercedes Benz
Mitsubishi
Onan
Perkins
Scania AB
Volvo
Yanmar and more…
From a budgetary standpoint, in most cases the decrease in oil change expenditures and the increase in fuel savings more than covers the implementation costs of the ONBOARD® Systems the very first year.
—Matt Dettman, ONBOARD®
Millions of dollars earmarked for education is being hijacked by excessive ever-increasing oil costs and diesel fuel expenditures.
ONBOARD® Performance is committed to serving the School Districts around the country to provide a lower maintenance cost to the bus fleets. It is our commitment to help reduce pollution, reduce operating costs, increase efficiencies that enable districts to put money back into education not waste oil generation and pollution.
ONBOARD® is proud to serve the School Districts with a technology that has helped to reduce maintenance costs, increase fuel efficiencies reduces harmful emitting exhaust gases.
It does not matter what year or make or model is in your fleet, ONBOARD® has a solution. Join us as we work collectively to provide a better way reduce costs so that we can redirect funds to support higher education.
---
Today's school bus fleets are a mixture of 15 to 20-year-old buses with outdated technology, and modern cleaner-burning diesel and CNG engines.
Post-2009 buses are equipped with Diesel Particulate Filters mandated by the EPA. These DPF systems are designed to keep the soot levels below government-mandated levels to protect the air our children breathe. The fact that school buses rarely run at full highway speeds causes the exhaust temperature to lower and soot levels to spike triggering what is called regeneration. The engine is electronically de-tuned to simulate a higher load which in turn artificially raises the exhaust temperature causing the soot to be super-heated and burned so as to lower tailpipe emissions. While at face value this sounds like a good idea, the fact is, each regeneration cycle burns an extra GALLON of diesel fuel lowering the fuel efficiency by 50%! This is not a good solution.
ONBOARD® can help ensure the safety of children by promoting cleaner burning school buses everywhere.
Many school districts have experienced significant budget cuts in recent years resulting in fewer course offerings, teacher and staff layoffs, the elimination of elective cultural classes, reduced transportation services and cut-backs of extracurricular activities. Draconian budget cuts have forced bus transportation managers to identify ways to reduce maintenance costs and operate more efficiently.
Millions of dollars earmarked for education is being hijacked by ever-increasing oil costs and diesel fuel expenditures. The time has come to seize ONBOARD's new technology and do what is right for the children.
With ONBOARD® running clean oil every day, the precious dollars being wasted on unnecessary oil changes and expensive diesel fuel can be spent where they should be spent… On EDUCATION!
Our commitment is to achieve this critically vital objective.
Contact us to arrange a free consultation!
Installations
Blue Bird / Cummins ISC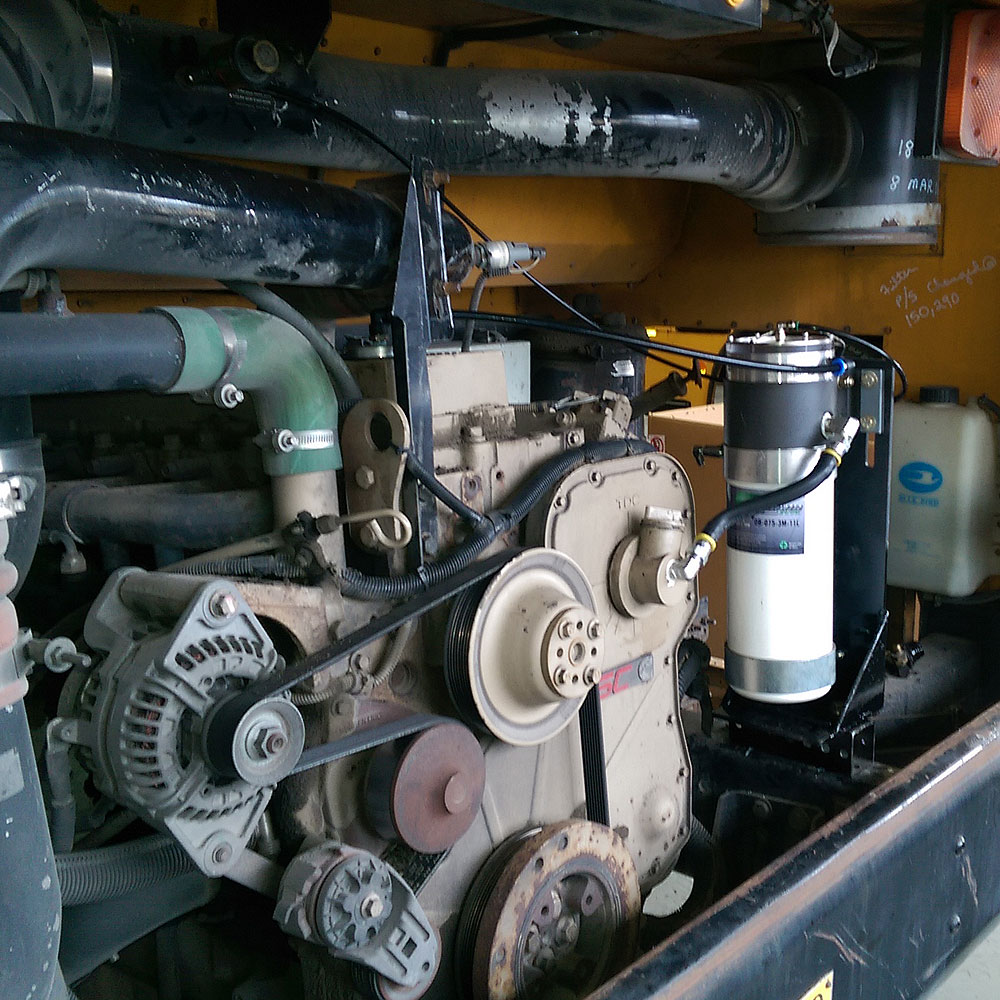 ---
ONBOARD® intends to help drop the U.S. estimated oil consumption of 2.3 billion gallons to 500 million gallons per year. Seriously. Why don't you join us?
Need More Data?
ONBOARD® also offers a full-featured Estimated Savings Calculator to fine-tune your savings data.
---
The Green Perspective
Many people define environmental initiatives in terms of fuel mileage, but the forward thinkers know there is much more they can be doing to protect the environment and earn credibility for their companies. More and more, organizations are aggressively seeking out new technologies that can easily and affordably help them minimize negative effects on the environment, and if improving their bottom line comes with it, AMAZING! The ONBOARD® ECVD System helps to reduce oil consumption, thus vastly reducing the environmental issues associated with the responsibility of handling oil, with all its inherent dangers.
Do you know where the waste oil goes?
---
Let ONBOARD® put a large part of your budget back into vital programs. Contact Us!