Drastic reductions in DEF usage, regen cycles, oil change intervals, and impressive gains in fuel efficiencies.
ONBOARD® intends to help drop the U.S. estimated oil consumption of 2.3 billion gallons to 500 million gallons per year. Seriously. Why don't you join us?
Need More Data?
ONBOARD® also offers a full-featured Estimated Savings Calculator to fine-tune your savings data.
---
Refines oil while engine is running
Eliminates liquid contaminants
Increases fuel efficiency
Mitigates fuel dilution of motor oil
Extends DEF yield
Reduces DPF regen cycles
Maintains 100% oil lubricity
Reduces downtime and costs
Increases oil change intervals
Saves your money
Reduces waste oil production
Prolongs engine service beyond 60%
Huge return on investment
Reduces hydro-carbon impact
Implementation is simple!
Commercial diesel engines generally need oil changes 6 to 12 times a year, costing $300 to $400 each time. Once installed, ONBOARD® can save thousands per year.
ONBOARD
®
Performance Products are compatible with virtually all internal combustion engines.
Caterpillar
Cummins
Detroit Diesel
General Motors
International
Isuzu
John Deere
Kohler
Komatsu
Mack
MAN
Mercedes Benz
Mitsubishi
Onan
Perkins
Scania AB
Volvo
Yanmar and more…
Today there is ONBOARD®
Recently, an owner-operator asked his service technician about additional oil filtration. The GM at 49er Travel Plaza gave him the run down and introduced ONBOARD®. He purchased the ONBOARD® XD System and it was installed right there by trained ASE mechanics at 49er Travel Plaza in just a few hours.
Be Profitable. GET ONBOARD®
The average Over the Road owner/operator spends $4000 a year on oil and filters, and at today's diesel prices, over $60,000 a year on fuel! There must be something you can do to stop the bleeding.
Your engine is your wingman, your trusted steed that provides for you and your family. You are keenly aware of every sound you hear. You change your oil regularly because you know you have to. It's always been that way.
Until now. New technology is all around you. The cell phone in your hand today is LIGHT YEARS better than the phone you had just three years ago!
Allow yourself to extend oil change intervals safely and sensibly by implementing the ONBOARD® System.
Add up the savings and make the necessary changes to run with Clean Oil Power.
This is not fantasy or wishful thinking. Revolutionary technology is here… now.

ONBOARD's vacuum dehydrator removes the liquid contaminants from lube oil while the engine is running. Drastic reductions in DEF usage, significantly less time in the regen mode—diminishing the need for diesel particulate filter cleaning, extended oil change intervals, reductions in your hydro-carbon footprint, and impressive, measurable gains in fuel efficiencies are all available to you today with a return on investment in a matter of months.
Petroleum, unless burned, does not "break down". Over time, your lube oil simply becomes over-run with particulate and liquid contaminants that wear out your engine. ONBOARD stops the attack, turning your engine into an oil refiner that keeps the lube oil in pristine condition every minute it is running.
On the road, clean oil is POWER. It's that simple.
Contact us to arrange a free consultation!
ONBOARD doesn't just spare you the SIGNIFICANT cost of oil changes, ONBOARD increases your engine's performance due to running cleaner and more efficiently.
—Anthony Evans, ONBOARD®
Installations
1002 WesternStar / Cat 6nz C15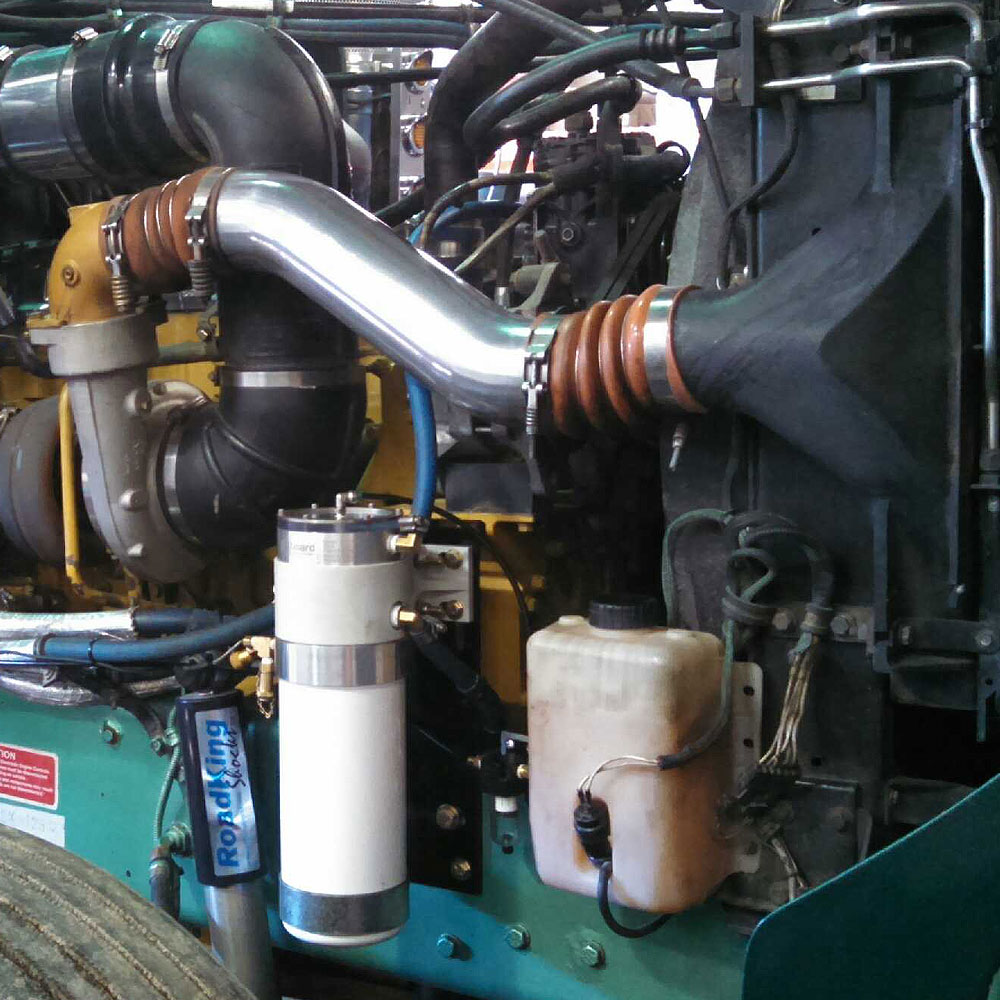 ---
Before / After
Jeff, the owner of J&V Burkart Trucking, Inc. located in Antelope, CA. His goal is to drive this truck 1 million miles and to have the lowest operating cost per mile. He chose the ONBOARD® System. Starting with a 2013 Freightliner with a Cummins ISX at 191,000 miles, Jeff noticed in just 22,500 miles the following:
Before ONBOARD®
MPG: 7.23 to 7.45
My DEF: 0 to estimated 197,000
After ONBOARD®
MPG: 7.45 To 7.89, 4.3% better fuel economy.
DEF: 1,500 miles per tank to 2,500 miles per tank.
Oil changes every 250,000 Miles.
Savings
$2,673 per year in fuel.
$3,317 per year in oil.
$5,990 total with an ROI in 3.5 months!
Within 5 years, that's a savings of $28,799!
What Does The DPF Show?
The Diesel Particulate filter is scheduled to be serviced on this particular truck at 250,000 miles. ONBOARD® has been installed on the truck for 60,000 miles of the 250,000 miles and as the technician mentioned, this particular filter looked as if it had been serviced before.
---
Contact us and get on board with ONBOARD®!