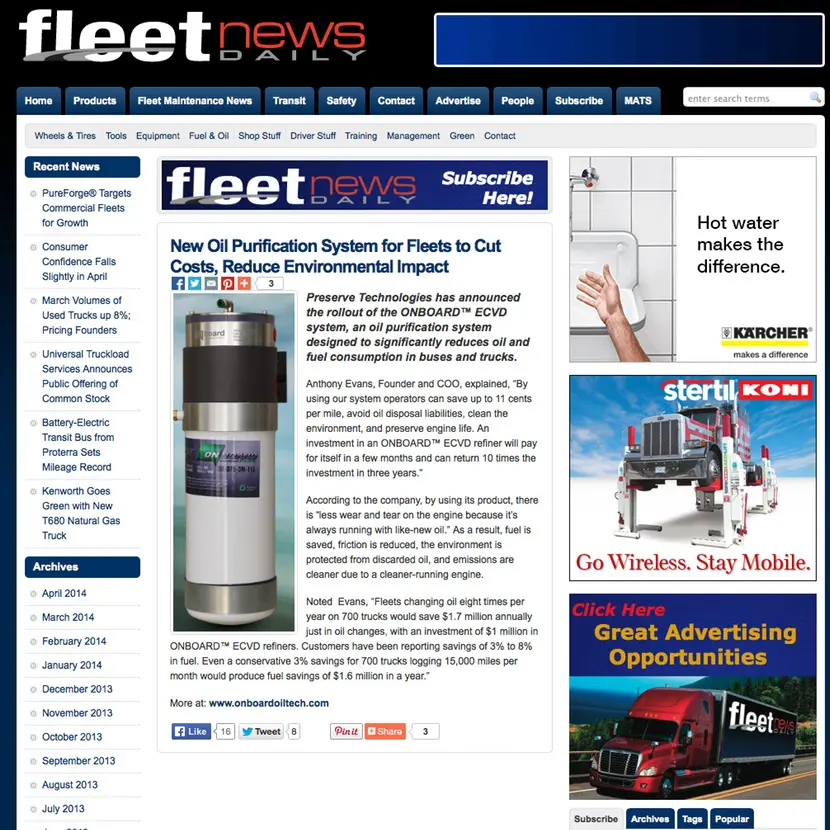 New Oil Purification System for Fleets to Cut Costs, Reduce Environmental Impact
Preserve Technologies has announced the rollout of the ONBOARD® ECVD system, an oil purification system designed to significantly reduces oil and fuel consumption in buses and trucks.
Anthony Evans, Founder and COO, explained, "By using our system operators can save up to 11 cents per mile, avoid oil disposal liabilities, clean the environment, and preserve engine life. An investment in an ONBOARD® ECVD refiner will pay for itself in a few months and can return 10 times the investment in three years."
According to the company, by using its product, there is "less wear and tear on the engine because it's always running with like-new oil." As a result, fuel is saved, friction is reduced, the environment is protected from discarded oil, and emissions are cleaner due to a cleaner-running engine.
Noted Evans, "Fleets changing oil eight times per year on 700 trucks would save $1.7 million annually just in oil changes, with an investment of $1 million in ONBOARD® ECVD refiners. Customers have been reporting savings of 3% to 8% in fuel. Even a conservative 3% savings for 700 trucks logging 15,000 miles per month would produce fuel savings of $1.6 million in a year."